Meet our Staff
Daniel Maffi - Sales Manager
(03) 9268 1888
qnavryz@crasbyq.pbz.nh
Daniel Maffi has over 10 years' experience in the Automotive industry and after spending many years with another manufacturer he instantly fell in love with the Suzuki product when he made the move in 2016. "The value for money is second to none. Suzuki build a quality Japanese car at a very affordable price. You really can't go wrong".
On a more personal note, Daniel is a massive Carlton and Liverpool supporter and loves travelling overseas, café-hopping and spinning records from his large Vinyl collection.
Favourite Suzuki – Vitara Turbo All-Grip.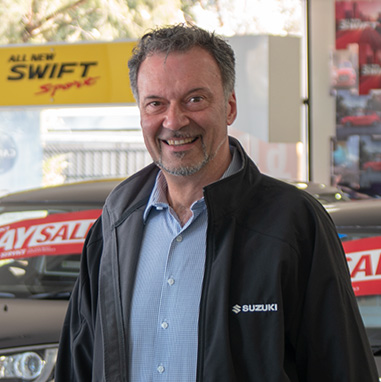 Lino Farinaccia - Sales Consultant
(03) 9268 1888
yvabs@crasbyq.pbz.nh
Lino Farinaccia started in the Automotive industry back in the year 2000 after 20 years of Hairdressing. Lino's priority is and always has been customer satisfaction. "People come first, I have always aspired to make their buying experience memorable and fun".
Lino's love for Suzuki is showcased by him owning a Swift Sport which he calls his "baby". The vehicle is always parked in our new car showroom for people to view and discuss the finer points with Lino.
Favourite Suzuki – Swift Sport Turbo
Dustin Rhode - Business Manager
(03) 9268 1888
qhfgvae@crasbyq.pbz.nh
Dustin Rhode has many years' experience in the Automotive Industry specialising in Finance. His knowledge and experience are second to none and customers appreciate his non-pressure attitude. "I'm here to guide people in the right direction and help them buy the car of their dreams".
Dustin is a huge Collingwood supporter and has a love of travelling.
Favourite Suzuki – Swift Sport Turbo.
Kelly Wilson - Aftermarket Specialist
(03) 9268 1888
xryylj@crasbyq.pbz.nh
Kelly Wilson is our Car Care Specialist and will advise you on the best way to protect your investment. She's passionate about her role at Suzuki and is here to guide you in the right direction when it comes to the maintenance of your vehicle.
Kelly's patience, nurturing and loving nature stems from her love for her family and children.
Favourite Suzuki – Vitara.
Alana Porter - Receptionist
(03) 9268 1888
fnyrf@crasbyq.pbz.nh
Alana Porter is the face and voice of Penfold Suzuki. Her kind demeanour and beautiful soul is instantly recognisable the second you first chat with her. She is a long term Penfold family member and a huge asset to our business.
On a personal note, Alana is an amazing musician. She is the lead singer of 'Once Were Wild' and possess one of the most unique and amazing voices you'll ever hear. She's also a huge Western Bulldogs supporter!
Favourite Suzuki – Swift GL-N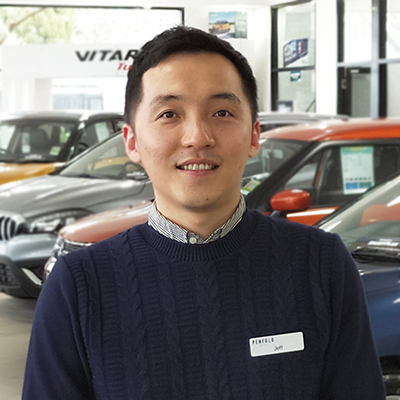 Jeff Kim - Sales Cadet
(03) 9268 1888
fnyrf@crasbyqfhmhxv.pbz.nh
Jeff Kim is the latest addition to the Penfold Suzuki Sales team. A long term member of the Penfold family, Jeff has recently been given the opportunity to expand his knowledge and has joined our Sales team. Jeff is also a qualified mechanic and works at our Suzuki Service Department. He loves Suzuki's!
On a personal note, Jeff is a happily married man with two absolutely gorgeous children.
Favourite Suzuki – Swift Sport.